Kamen Rider
was the very first show in the franchise, airing from 1971 to 1973, the series set up many themes that are still used today. The series followed the battles of the first two Kamen Riders against Shocker and later Gelshocker. The series ran for 98 episodes, making it the longest series to date.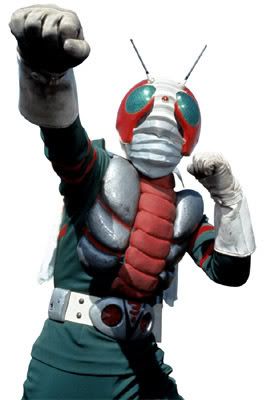 Riderman
Later on, Riderman, the fourth Kamen Rider is introduced as the first long term anti-hero Kamen Rider. The original Kamen Riders also make various appearances over the course of the series to help Kazami.
Greek mythology
and later on various animals and historic figures.
Kamen Rider Amazon
aired from 1974 to 1975, airing just 24 episodes, it is the shortest Kamen Rider series to date. Daisuke Yamamoto, an orphan lost in the Amazon has grown up with an Amazon tribe and lead a peaceful life until his tribe was attacked by Gorgos. Before dying, his tribe elder turned Daisuke into Kamen Rider Amazon. This was the first Kamen Rider not to use a belt to transform and the first series not to have any previous Kamen Riders appear, although Amazon meets his seniors in the next series.
Kamen Rider
was a revival of the franchise after four years off of broadcast. Intended to be a remake of the original series, the idea was slowly phased out as references to the past were made and senior Kamen Riders made guest appearances. Hiroshi Tsukaba is kidnapped and transformed into Kamen Rider as a means to help Doctor Shiro escape Neoshocker. During the course of the series, former Kamen Riders appear and Kamen Rider is dubbed Skyrider by Kamen Rider Stronger to differentiate him from the original Kamen Riders.
Kamen Rider Black

Airing from 1987 to 1988, the series ran for 51 episodes. After being kidnapped by the cult Gorgom on the night of their 19th birthday, stepbrothers Kotaro Minami and Nobuhiko Akizuki are submitted to a mutant surgery with the purpose of becoming the candidates to be the next Creation King. Kotaro escapes before the brainwashing, with help from his foster father, and turned against Gorgom. He soon finds out the horrific truth from his stepfather: Gorgom originally killed his true parents. Later on, Kamen Rider Black must battle with his brother, who has become the trump card of Gorgom, Shadow Moon.
Kamen Rider Black RX
Airing from 1988 to 1989 for 47 episodes,
Kamen Rider Black RX
is the ninth and final show in the Shōwa era of shows. Years after the defeat of Gorgom, Minami Kotaro is kidnapped by the Crisis Empire. After refusing to join them, he is thrust out into space where he undergoes the change to become Kamen Rider Black RX. This series marked the end of the Shōwa era of shows.