Assalamualaikum and what's up everyone? How's your life during november? Boring? Fun? Lame or hate it? That's kind of feeling you have on november, right? For me, It's complicated feeling. Why? Well, that's what I call a life and different from all of you out there. Maybe some of you have same fortune like me, but different way. There's so many conflict I have since 2nd week of november. Maybe they challenge my patience in my body? Or just give me another exam for ready to future? Wallah'ualam. All I need to do is move on and keep think positive. :)
Well guys, last 3 days, my mp3 player is not working at all on morning. I don't have any idea why my mp3 suddenly not working,maybe that stuff challenge me whether I'm taking new mp3 or not. haha.. Yeah,my friend, Arjuna, tell me that I should buy a new mp3 player.
My 1st MP3 Player ;D
My mp3 player model is Sony NWZ-B152 which the USB one. I buy that stuff since 2010 with my old friend,Rais. Actually, I don't want to buy new because I know that stuff will not working shortly. After that, it will be function again like before and it work. :D Thanks to that mp3 and that's mean my mp3 still love me.. :')
For your information, two weeks from now, I will have Choral Speaking Competition which is held on 21st December 2012. Huhu.. Some of our group didn't cooperate seriously and make my friend tension. Some of them yell that their don't get any script from my friend. Adam,which is leader for our group. He's got disease and I hope he can stand that sick until our competition. Without him,we will lost. >.< I hope all of you can pray for his healthy. :)
By the way, weather nowadays seems complicated because it will raining and sometimes it will be sunny day. So starting from yesterday, I bring umbrella along with me because I afraid that I will hit by rain again. Actually,I'm worried about my special one. Why? Yeah She's starting work again at parkson.
It's been 2 days that she haven't text and call me. My mind already negative thinking..huhu.. I hope you will read my blog now baby. I also hoping that you will drop some message. Please be save there at Labuan. I know it's hard to find a money but you know,i'm here can't sleep properly because of thinking of you at night. It's kinda annoying but you will understand what I feel and one more thing is that I hope and pray that you never meet that man again. Amin Ya rabbal Alamin.
Tonight, I ate durian D-24 type and my body become hot as water heater. Why? It was because I ate three durians last night with Adam.. :D Adam don't want to ate because he will spew it. Haha, maybe he's unfamiliar with durian.
D24 Durian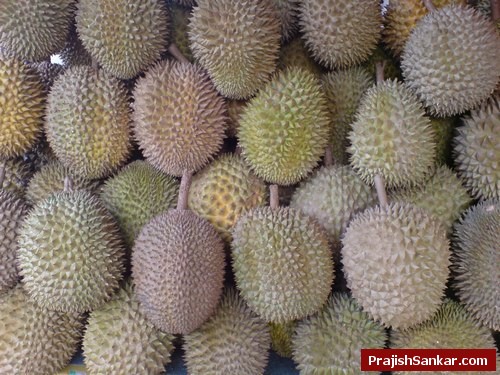 Kampung Version
I told my parents that I ate durian,my mother says that durian will make high blood pressure and my father have nothing to say about it. I don't know why,maybe he knows that I like durian very much. hehehe.. Me? Currently stand for warm body now. My body feeling so warm. I hope tomorrow my body feel more better than yesterday. :)
Tomorrow night is the day which is Malaysia against Indonesia on AFF Suzuki Cup 2012. I hope malaysia will win again. Tonight I will pray for them.
Tomorrow night (saturday)
Well guys, let's pray for Malaysia team for winning this game. I hope I can go along with my cousin because I saw today that my friend will go tomorrow night. huhu.. I think
there is no
sustenance for me to meet him. huhu.. My friend, Azlan had go tomorrow with my Lecturer. So,tomorrow all people will busy go to
Putra Bukit Jalil Stadium. :3
Since tomorrow already month of December. I wondering if someone still remember my birthday date. I still got question mark in my head for who will wish 1st to me. I hope the 1st person my special one will wish me. :'3
Wondering

On my birthday this year, I will stay at KL which is same happening on last year. The 1st person is my friend who studied at Uitm, and last person is my special one. Actually I don't care who's the person wish me,but I will be if the 1st person who wish me is Special one which at Labuan. Now she's busy with her work and no time for me. How pity I am right? :')
What I can do is pray,pray and pray for our relatioship will eternity until we married. I hope that all of you out there pray for us ya. :)
I think that's all for today because my head now feel heavy. Maybe durian affected.haha I need to rest myself tonight because tomorrow will
tidy my
room with Arjuna.
I hope all of you out there have a nice day and stay healthy ya. ;)
Regards,